Turmeric
Smoothie Bowl
A Naturally Sweet Recipe
Turmeric Smoothie Bowl
Time
Prep: 5 Min
Cook: 0 Min
Ready-To-Eat: 5 Min
Diet
Vegan
Gluten Free
Grain Free
Ingredients
1 ½ – Frozen Banana ~ pre-frozen chopped up banana
1 heaping tbsp – Turmeric ~ I use either new Chapter, Megafood or Botanica turmeric booster 
1 can – Coconut Cream ~ I use organic coconut cream can by: blue monkey, or Earth choice brands
1 tsp – Cinnamon Powder
Optional Additives
Frozen Pineapple
Frozen Mango
Frozen Organic Strawberries
Frozen Wild Blueberries
Maple syrup ~ loaded with healthy amino acids, minerals and is low on the glycemic index
Optional Powder Additives
Cordyceps ~ for additional energy, and kidney support
Reishi ~ for more relaxation, and stress support
Lions mane ~ for additional cognitive, and brain support
Mushroom blend ~ Harmonic arts 5mushroom, open capsule of Complete 360' or Immune 7 by Purica
Ashwagandha ~ one of my favourite adaptogens. I prefer Nature's way brand with open capsules
Instructions
Mix all ingredients together in blended (I use a Vitamix blender) the KEY is to blend at high speed.
Nutritional Benefits
Turmeric
Turmeric comes from the Curcuma longa plant, which grows in India and other Southeast Asian countries. It is a member of the ginger family. The dried root of the Curcuma longa plant; distinctive yellow powder, giving it the name golden spice. It Provides strong anti-inflammatory antioxidants (carotenoids, flavonoids, lycopene, anthocyanin and polyphenols) that fight free radical damage. It aids in disease prevention, by reducing the risk for cardiovascular diseases, neurological conditions, depression and/or cancer. It supports gut health and therefore enhances the overall immune system. It provides "prebiotics" that help feed probiotics.It provides live microbial cultures, also called probiotic bacteria. Reducing pathogenic bacteria and microbes.
Banana
They are 76% water and are packed with vitamins such as vitamins C and B6 and minerals such as potassium, copper, and manganese. This high water/nutrient ratio makes them a great electrolyte food perfect for busy moms, workout enthusiasts, and people on the go. Bananas additionally contain high levels of fructooligosaccharides (FOS) which along with insulin helps to promote nutrient absorption and assimilation. Bananas support the natural acidophilus bacteria in the bowel which helps promote a healthy and functional digestive tract as well as keep the immune system healthy and strong. Bananas can prevent ulcers by strengthening the surface cells of the stomach lining which helps to create a thicker barrier against digestive acid and pepsin-the two main causes of ulcers. Bananas are also an excellent food for athletes as they can help replenish energy and revitalize the body instantly.
Coconut Cream
Coconut cream differs from coconut milk in that it contains less water and more coconut, so it has a thicker, richer texture. Its ratio is 1 part water to 4 parts coconut, while the milk's ratio is 1 part water to 1 part coconut. Is packed with vitamins C, E, B1, B3, B5, and B6 as well as iron, selenium, sodium, calcium, magnesium and phosphorus. These vitamins and minerals are excellent for supporting beautiful glowing skin, thicker and longer hair and nails.
More "Naturally Sweet" Recipes
Subscribe Today for Access to All of My Recipes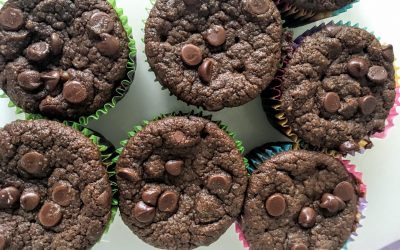 AdaptogenChocolate MuffinsA Naturally Sweet RecipePrep: 5 Min Bake: 25 Min Ready-To-Eat: 60 MinVegan Gluten Free Grain Free12 MuffinsIngredients 1 cup Coconut flour 1 cup Almond flour 1 cup coconut oil 1 cup cacao 3 capsules broken open of purica 360' - OR - Purica...
Naturally Sweet Recipes
By Evi Spiliotopoulos
Hi I am Evi, I love sweet stuff, anytime, except maybe right before bed;-)
I don't think we need to feel guilty or ashamed of enjoying the sweet stuff! Life has its obstacles, challenges, pain, sweat, tears, and fear; I don't think there needs to be ANY negative connotation to the naturally sweet stuff. I think spirit/energy/universal love/god made it for pleasure. OurOm2hands stands on "holistic, sustainable, abundant intentions and actions." THE food we make, and enjoy alone or with people we loved is meant to bring love. I want it to holistically heal and nurture you. Sustainable because it is easy to maintain and it sustains a beautiful life in you, and from the ingredients you choose that help keep the earth alive via seed, to soil. That interconnection of us and the earth is so important and what ingredients we choose helps keep it alive or not, just like the ingredients we choose for our own bodies. Abundance here with these recipes because life is meant to be celebrated, to expand the joy so more joy will grow and spread far and wide.  We are what we eat, they say, so the more love the more joy going into the food and how we eat is important and part of the holistic aspect too. You see the way the body/mind and spirit are interconnected, so too are holistic, sustainable and abundant intentions and actions 😉

On a physical level; I have shed weight over 10 lbs since I balanced my hypothyroidism. The more I ACTUALLY listened to my body/mind and spirit which DID NOT include deprivation; the more my body spoke and told me when I was full, the more my body said let's go for a long walk, lets rest and let's relax and watch or listen to something funny. For some of us it takes more time, or care depending on what is on our plates in our lives; with children, husbands, wives, or if we are alone; either way mustering up the courage to make a shift is the first step. I only want to inspire and bring a peace of love via these recipes.
Despite certain trends I believe, because of the influences that I used and applied that helped me most to find strength, energy and stamina during my journey of healing and finding optimal health again: Fruit, and natural sweeteners are necessary for the body/mind and spirit. Natural sweeteners I mean: organic fruit, raw honey and maple syrup. I do switch things up with organic coconut sugar at times since it does not feed yeast (candida imbalance), or Erythritol. I don't use agave, but it is a low glycemic index sweetener and I am not against substituting with it.

As a mystic whole food nutritionist my world includes lots of love, magic, arts, and moving past pain that no longer serves. I nourish my body/mind/spirit with the sweet nectars of life. Those of you familiar with Ayurvedic doshas, it is obvious one of my main doshas is kapha. Organic fruits and these natural sweeteners mentioned brings a great deal of joy to me. I believe their colours give our spirit what it needs to thrive, our bodies and minds; the best in antioxidants and amino acids for energy and brain function; all of which our whole selves need to live most optimal. 
There will always be various schools of thought, and various ways to look at the same picture, so I am providing some options to switch up ingredients to hopefully give you something that suits you. Ultimately the recipes are a frame of reference to inspire you to try things or play. I hope the love I have from these recipes bring some love into your home and hearts! ? Food is the gateway to connection to ourselves and one another, it represents cultures, communities, gatherings and purpose. Don't sweat the sweet stuff ?