My Chocolatey
Balls of Bliss
Recipe
My Chocolatey Balls of Bliss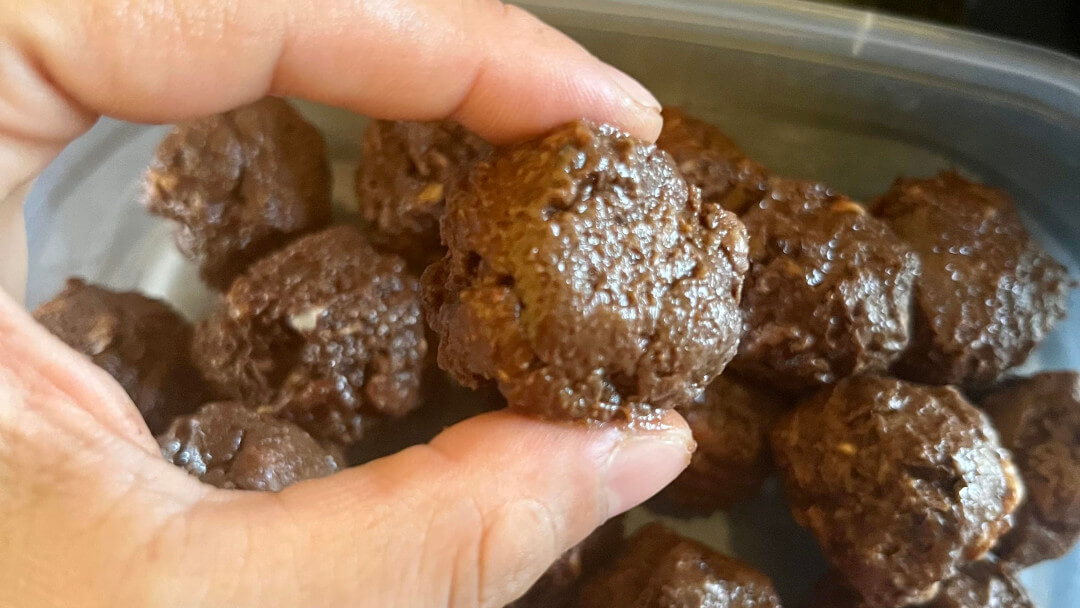 Time
Prep: 5 min
Make: 5 min
Chill: 20 min
Ready-to-Eat: 30 min
Ingredients
1 Cup of Pitted Medjool Dates – roughly 18-20 dates or 220 grams
1 Cup of Pecans – or 70 grams
½ Cup of Peanut Butter
1⁄8 Cup of Cocoa Powder – I love Giddy YoYo brand
1⁄8 Cup of Maple Syrup
1⁄8 Cup of Mylk – I prefer homemade or Goya Coconut Mylk
¼ Cup of Chocolate Protein Blend – I love Global Healing brand
5 Big Dashes of Cinnamon
Directions
Add all the ingredients to the food processor – I find it easiest to add the nuts and most of the dry ingredients first and the peanut butter and Mylk near the end followed by the chocolate nibs and cinnamon.
Awareness: They should be slightly moist but not too hardened. This way when you eat them, they are soft, chewy, and crunchy)
Once you mix all the ingredients in the food processor, you can use a tablespoon to scoop out that size to roll in your clean hands each ball. I put them on a cookie sheet with parchment paper, put the whole tray with 20-21 balls on it once rolled into the freezer for 15-20mins.
We live in the Dominican Republic, so we keep our bliss balls in the freezer when we are not about to eat them. Plus I prefer them a little cool with some hot organic decaf coffee, or hot tea.
Enjoy these balls of bliss 💖

By Evi OMsGurl
Holistic, Sustainable, Abundance
Evi pronounced Ev eee
OMsGurl (keeping things with the origin of her original business name:
OurOM2hands, 2014-2022)
Evi OMsGurl is an authentic brand, where she focuses and promotes:
Holistic, Sustainable, Abundance.
Freedom & Love being the goal and purpose to: Alchemize Whole Wellness
Welcome, we are grateful, thankful, blessed to have you here!
Her own life has included some shadow work that has led her on this path; including witnessing her only younger brother regress into autism (he was age:3), having moved through very dark depression late teens into early 20's, survivor of multiple skin conditions, reversed ADHD, and recently while in nutrition school healed hypothyroid at the root cause.
She is a graduate of CSNN and a registered holistic nutritionist since 2019. Her love for holistic health and wellness includes these forms of education and certifications: yoga teacher level I (2005), reflexologist (2008), bodywork and massage (2012), rainbow kids yoga (2014), reiki level II (2017-2018).
She first began OurOM2hands in Courtenay BC with a friend, and it has since turned into a sole proprietorship whereby this blog is born. The focus of the blog is centred around the themes connected to OurOM2hands; holistic, sustainable, abundant intentions and actions. Enjoy!
More Recipes
For Your Health & Wellness
My turmeric smoothie bowl recipe is one I love when I am feeling like something fun, and cooling. It is simple to make with a blender; plant based, and gluten free. Yellow food according to eastern yogic perspective supports the solar plexus.