What is Traditional
Chinese Medicine?
With Dr. Adrienne Chan
What is Traditional Chinese Medicine? With Dr. Adrienne Chan
Interview Transcript
Evi
Hi I'm Evi also known as OMsGurl from our OurOMhands and the motto is olistic, sustainable, abundant intentions and actions. Today we're focusing on holistic health with my really good friend Adrian. Adrian is a TCM doctor: traditional Chinese Medicine Dr. so I am really honoured to be able to interview her today. She went to school first to do her BSC in Guelph from 2000 2004 and then came here to Vancouver in 2004 to 2009 to do her in traditional Chinese medicine schooling. She also took of course and learned acupuncture in the first four years and then the fifth year she became a doctor. She has been practicing since 2009 and so for the last 11 years she's had the pleasure of helping over 400 people including over a handful of celebrities. So yeah this is Adrienne, hi how are you doing?
Dr. Chan
Good good
Evi
Cool so um I just wanted for people because some people have been to a traditional Chinese medicine doctor, but some people have not; so can you kind of go into like what is traditional Chinese medicine and how does it approach holistic health from the root cause?
Dr. Chan
Okay so in Chinese medicine we don't just treat the symptoms we'd like to get to a root cause so that actually go away don't come back we also work with balances in the body so we always want to balance your internal systems. In that way of approaching your body, it is sort of unique. Yeah, so we believe that energy or Chi flows on these channels called meridians that link our whole body together. So when there are blockages in these energy pathways, there is a lack of flow and then there's problems and you may feel discomfort. So the whole process of Chinese medicine is to get the Chi flowing so there's no blockage, no issues.
Evi
Wow and how does acupuncture or traditional Chinese medicinal herbs help like relieve some of the blocks or open up the pathways?
Dr. Chan
Yes herbs it's kind of like eating a healthy diet herb it's stronger than healthy food so it just helps with balancing from the internal system so that the problems can offer healing.
Evi
I think of skin issues and if you balance things inside then you do reflect good skin and good health. Which everybody wants nice skin yeah so is that one of the common reasons people come to you is like glowing skin?
Dr. Chan
That is one of the common things like most commonly today is stress. It is one of my favourite things to treat Also pain, fertility.
Evi
Well yeah and then so you do the bee shots too for weight loss is that what all traditional Chinese medicine doctors?
Dr. Chan
Yeah that's some nutrition aspect, some come in okay so people just want some quick vitamins really quickly and get some more energy helps with depression weight loss helps your eyelashes grow longer. Yeah I did after birth they just helped me feel not so bloated and help with my hair growth back and my skin and energy I was really tired okay and it helps you to be more energy yeah.
Evi
Yeah that's cool: what originally brought you to want to be a traditional Chinese medicine doctor as opposed to going a different path like say you know allopathic or Western medicine or being like a naturopath or nutritionist. What really kind of drove you to want too?
Dr. Chan
Yeah so when I was little I had menstrual problems and so my mom took me to a Chinese medicine doctor and it helped me. I had first-hand experience of the benefits of Chinese medicine and also just like how it actually resolves the issue. Not just like you know masking the symptoms.
Evi
Yeah so when people come to you if you end up helping their acne or their stress or fertility and these kind of things then do you still have reoccurring patients? Or what would cause reoccuring patients, like stress?
Dr. Chan
Kind of no matter what yeah so TCM is preventative so it's like diet and exercise you know. Just like exercise, when you have an issue or eat well when you don't feel well so with Chinese medicine preventatives some people actually schedule in like every three weeks for the whole year .I see a lot of younger people come in which is really exciting because they're more aware of self-care. So that's really exciting yeah one of the big demographics is like yeah yeah younger people actually they don't have major issues a lot but like stress with the jobs or relationships.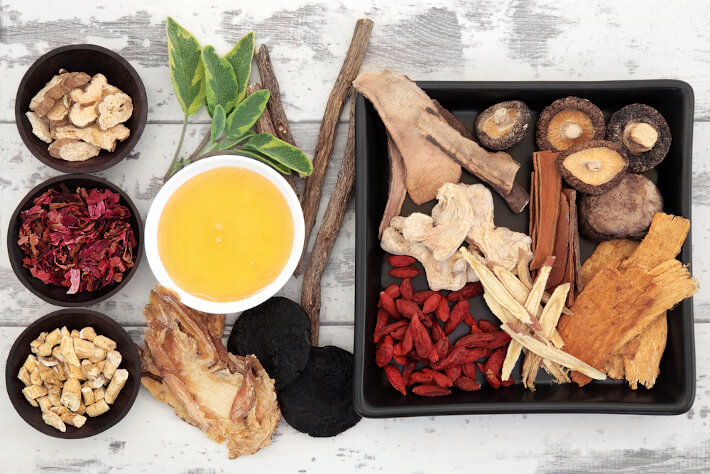 Evi
What about um the relationship of the gut because I know from a nutritionist perspective that gut health seems to be you know like 80% of the immune system. The gut as far as I understand, but I haven't studied TCM so I wanted to ask you.
Dr. Chan
From traditional Chinese medicine right that is right, that the focus and attention to the gut yeah yes in Chinese medicine we believe there's this digestive fire from our middle burner and we want to keep that fire going otherwise we would feel imbalance and disharmony in the body. So you always want to eat really cleant too cool not too hard like though you want to balance so that things worked ultimately otherwise it would feel sluggish.
Evi
Very good so cuz I know you've told me before that I need to eat like warm and cool and neutral foods, but are some people kind of actually more cold; so for them they need heat like hot foods and hot it's not necessarily hot isn't like warm soup but as hot as in like like tumeric is hot right like mm what's cold bananas are cooled bananas cucumbers?
Dr. Chan
Yeah we focus on the energetic qualities of food and everybody has different constitutions. So not a cold salad is good for everybody and not soups and hot spicy foods for everybody. So if you're on the hot constitution you want to kind of cool your body down so thing goal is to have balance so in neutral so if you're too hot ya gotta eat more cooling for you. To be called to eat more hot so is that why some people then maybe their constitutions hot so then eating like for them personally rather the raw food diet yeah may be good for that yes where some people might eat like vegan raw and for their constitution it might be too cold exactly.
Evi
Yeah right yeah okay cool I like that and what about um is there any other organs like the kidneys that are kind of like secondary are also important and tradition Chinese medicine that or the spleen or yeah certain foods help certain organs so if example are you focusing fertility the kidneys responsible for our fertility so we've we suggest to eat more like you know black food black colored foods so black beans black sesame seeds goji berries.
Dr. Chan
Yes goji berries for liver and kidney yeah, I'm going to just we just look for patterns in Chinese medicine so for example apples like green apples are better for your liver and red apples are better for your heart. So we just look for like patterns and colours and we match those.
Evi
Then so what's been the most like sort of changing in your career path like have you noticed since the beginning when you first started treating clients or patients – now have you had to kind of change your approach at all or have you like learned a lot from your clients?
Dr. Chan
I don't take a different approach, but maybe just in like how you blend herbs or like protocols and my questions are quicker and my diagnostic skills too. But I noticed people are a bit more educated now. So they don't come in, it used to be just for headaches and back pain is that's what people know acupuncture is good for but now people are aware that oh I just have anxiety and mental health can help with that and you find then like with the anxiety and mental clarity because that's kind of more of like the mind part of the body mind spirit the holistic part so do you find that then they really does help the whole like mind body spirit in treating like the body or the herbs they work with it's all connected because if you are if you haven't saw any for example that you're probably overthinking at night or you're too hot Constitution so everything is and that's why lifestyle can also be important really for some people more exercise for some people less exercise yeah.
Evi
Um and if there have been something that's been the most kind of exciting like I know you mentioned before that you really felt like with supporting stress but is that really what excites you. Is there a certain moment like obviously you can't have what the person or the client but yeah in general that kind of you saw like the most transformation or something that really kind of makes you really love your job cuz I know you do.
Dr. Chan
Yeah I know it's a connection with people and how they feel excited for the appointments and they want to come and it they feel better walking out. I feel yeah it's transformative yeah I can see it in their face right after the treatment and just how they look forward to it's like their self-care their power to themselves and it's the connection they think that's key and can alter them.
Evi
So Chinese medicine doctors kind of diagnose to see what like foods or like if someone's hotter more like yeah that's kind of yeah what standard right?
Dr. Chan
Like we're trained to do and post-diagnosis so I look at the tongue we don't get the shape the colour the size the coding and then we sort of see even if you don't speak English very well we can tell from your tongue and pulse what to do.
Evi
Cool and that connects to the meridians yeah so what would be your advice to someone who has never been to traditional Chinese medicine Dr. TCM to kind of you know either for preventative or if they have you know some major gut issues or endocrine system how does someone find like the best fit for them?
Dr. Chan
Yeah just you will feel a connection. You might be for instance where you just that person's not right for you and there's lots of practitioners now that you can just you know find your way to do and just feel comfortable with something can open to and relax yeah unless I guess a lot of reviews too and stuff yeah
Evi
Yeah well thank you so much for the interview thank you so much thanks for also you know this video screen was a little whatever but that's the first yeah I totally right it's the first interview so I really hope you enjoyed it thank you so much for joining me have a great day.

By Evi OMsGurl
Holistic, Sustainable, Abundance
Evi pronounced Ev eee
OMsGurl (keeping things with the origin of her original business name:
OurOM2hands, 2014-2022)
Evi OMsGurl is an authentic brand, where she focuses and promotes:
Holistic, Sustainable, Abundance.
Freedom & Love being the goal and purpose to: Alchemize Whole Wellness
Welcome, we are grateful, thankful, blessed to have you here!
Her own life has included some shadow work that has led her on this path; including witnessing her only younger brother regress into autism (he was age:3), having moved through very dark depression late teens into early 20's, survivor of multiple skin conditions, reversed ADHD, and recently while in nutrition school healed hypothyroid at the root cause.
She is a graduate of CSNN and a registered holistic nutritionist since 2019. Her love for holistic health and wellness includes these forms of education and certifications: yoga teacher level I (2005), reflexologist (2008), bodywork and massage (2012), rainbow kids yoga (2014), reiki level II (2017-2018).
She first began OurOM2hands in Courtenay BC with a friend, and it has since turned into a sole proprietorship whereby this blog is born. The focus of the blog is centred around the themes connected to OurOM2hands; holistic, sustainable, abundant intentions and actions. Enjoy!
More Blog Posts
About Health & Wellness
Cacao always brings joy in my world. Whatever kind of day, a little healthy sweetness of chocolate can be so nurturing. Then the nuts and dates bind together creating easy, fun, delicious snacks that are gluten free and vegan.